Does Microneedling Tighten Your Skin?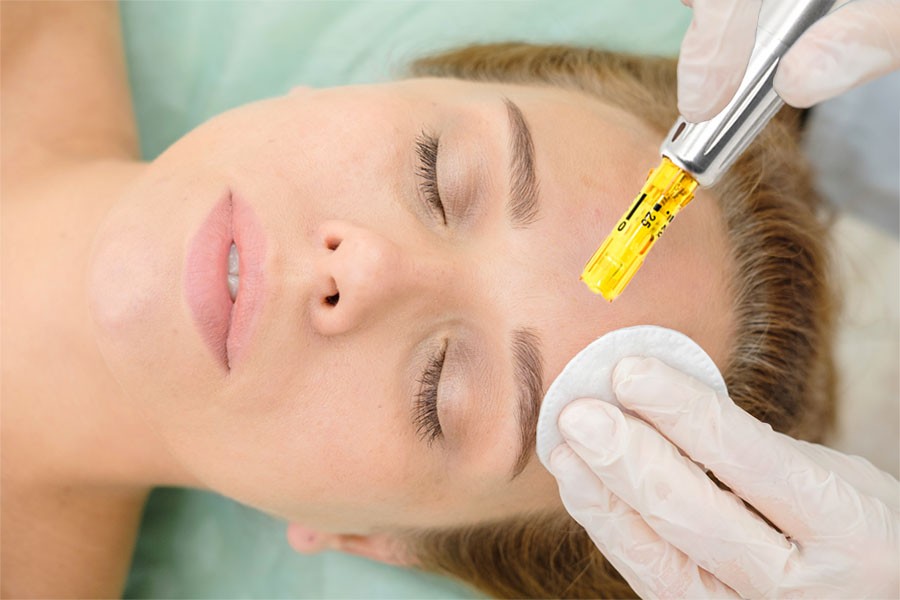 Last updated on May 26th, 2022
As we age our body begins to lose volume, and our skin becomes loose and elastic. This naturally happens as the building blocks of collagen proteins that help keep our cells strong and connected begins to degrade and become weaker over time. As a result, gravity tends to have more influence on your skin cells, and over time this creates droopiness, wrinkles, and bands on your skin. This is the problem that microneedling and Dermapen aims to solve — and many have said that we do that job very well.
What Is Microneedling?
Microneedling, also referred to as collagen induction therapy, involves using super-fine needles to create hundreds of tiny, invisible puncture wounds in the top layer of the skin. These wounds are called micro-injuries, and the micro-injuries that you create with microneedling stimulate the body's innate wound-healing processes. If you'd like to read in greater detail about microneedling with Dermapen®, click here.
How Does Microneedling With Dermapen® Tighten Skin?
During the skin's healing process, your body produces fresh collagen to replace the damaged collagen, which rejuvenates your skin by increasing your body's natural production of collagen and elastin. This results in an overall improvement in the texture and tightness of your skin by "filling in the lines," and removing the wrinkles, scars, and stretch marks that can keep you looking young as you age.
How Many Microneedling Sessions Does It Take To See Tightened Skin?
The number of treatments required varies based on two things, the first being the results you want to achieve, and the second being which part of the body treatment is being performed on. Just a few sessions of microneedling will noticeably reduce fine lines, crow's feet, and deep wrinkles on the forehead. For most wrinkles or stretch marks on the body, depending on the severity, you may need 4 to 8 microneedling treatments to achieve optimal skin-tightening results.
Are There Any Side Effects To Microneedling?
The risk involved in microneedling treatments is very minimal. After a treatment, dry skin or red discoloration may occur, which will typically subside within a week. If you're concerned about other side effects of microneedling and Dermapen, read more.
The Dermapen Microneedling Pen provides an unparalleled response through the segmented delivery of microneedles, creating micro injuries to the epidermis (outer layer of skin) and dermis (the inner layer of skin). As a result, the micro injuries encourage the body's innate ability to repair itself.
Every Dermapen tip is outfitted with 12 needles and features our patented technologies, which include SureSpace™ and SafLok™. Accordingly, these safety enhancements can be found in every Dermapen needle tip and pen.
Furthermore, by using SureSpace™ and SafLok™ microneedling pen technologies, practitioners can deliver their patients the safest microneedling treatment possible, while getting the best microneedling results for their patients.
Skin Care by Inderma®
We proudly offer an award-winning skin care line to benefit all clients.
Add Dermapen® microneedling to your medical practice or spa
Medical practices and licensed skin care professionals around the world offer their patients the worlds most advanced microneedling treatments with Dermapen®